After crossing the border back into SA we kept driving across the Nullarbor. We pulled into a rest stop for lunch & after eating walked out to the Nullarbor cliffs for a look. They are truly spectacular even though we saw them on the way
over
they still take your breath away. It was much hazier this time, so the photos aren't as good, so glad we got some great shots last time, still lovely though.
We kept driving & listening to more cricket & eventually pulled up at another overnight parking bay to camp for the night. This one was also pretty good & we managed to get a fair distance off the road. The hot dry air was blowing, but it made us happier as at least it wasn't cold & rainy. Because of the time change it was only about 2.30pm WA time but 5pm SA time, but we thought we have to get used to this change soon, so we pulled up & set up camp, we went 700km for the day. Curried sausages for dinner at around 7.30pm & it wasn't even remotely getting dark, in the end it was 9.30pm before it was dark, oh us Queenslanders just love daylight savings.......
The next morning we were up at about 6am SA time, we won't think what time it was WA time & hit the road about 7.30am. Just as we were packing up we heard a funny squawking noise & saw some Major Mitchell cockatoos in a nearby tree, my favourite birds. I was so excited I grabbed the camera but before I could get really close, some galahs chased them out of the tree, bugger but it was great to see them in the wild, only the second time I have, we then saw a few more eating on small shrubs as we drove along the highway, they are so beautiful.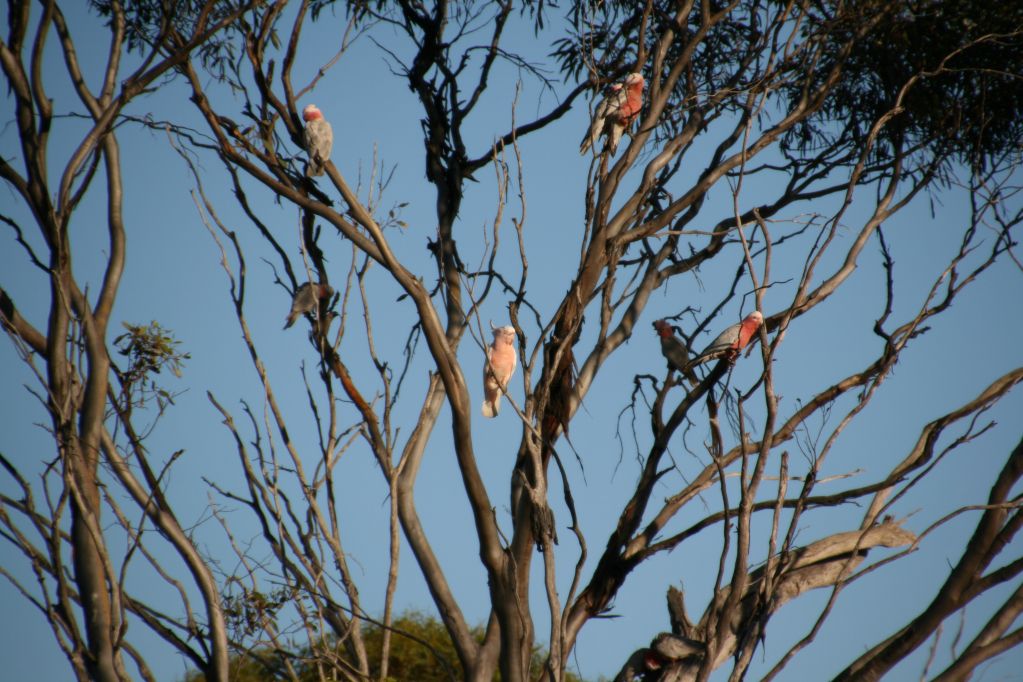 A Major Mitchell sorrounded by those pesky Galahs
It was only 200km to Ceduna where we had to stop at the quarantine station, we lost some oranges, lettuce & cabbage, but they let us keep our onions, potatoes, sweet potatoes & carrots. We tried to use up any veggies the night before that we knew they would take like pumpkin in our curried sausages & ate our apples for morning tea before we got to Ceduna. So we went into town to grab a bit of fresh fruit & bread. We were pleasantly surprised to find a great Foodland grocery store that had great specials & decently priced fruit & veggies, you really get ripped off for this stuff in WA. We grabbed some diesel on the way out as well. Another great surprise it was only $1.36c/L, the cheapest diesel we have bought the whole trip & in years. We paid $1.66c\L back in April when we were here, bonus.
We left town & headed down into the Eyre Peninsula. It was to early to go down towards Port
Lincoln for Christmas so we decided to find a camp along the coast. We drove past or near all of the great places we stayed at on the way over including
Streaky
Bay,
Cactus
Beach &
Fowler
s Bay had forgotten how arid this country is & it is so dry at the moment. The harvested wheat crops almost run right to the edge of the ocean in some spots & there is very little vegetation or trees.
We had heard of a place called Walkers Rocks campground near Elliston that is run by the shire that has camping for $10 per night which sounded good. We found it with ease & found a site under the only 2 trees in the whole place. It was right near the beach but protected by dunes. The camp has 4WD beach access for boats & driving, a flushing toilet, a cold shower, rubbish bins & a picnic table. There are a few different areas for camping & big sites. Most seem to use it just as an overnight camping area, but we really liked it. Most of the areas have no shade at all, except our site.
Our camp
The next day which was Sunday the 14th of December we just stayed at camp, we were buggered from 3 days on the road. We explored the beaches & relaxed. The wind was pretty strong despite the forecast for it not to be, we must of brought it with us!
Beach on front of camp
The next day we went into the town of Elliston for a look. On the way we did the coastal cliff top drive which was fantastic. Amazing views. At one lookout we stopped to find it full of cars & about 20 surfers down in the waters under the cliff catching waves. Into town & it's a nice small town. It has 2 caravan parks, a shop, bakery, pharmacy & a few other bits & pieces. The surfers were keeping the bakery busy. We then went down to the jetty for a fish. Great views again, but no fish, barely even a bite, but we did watch some people catch a squid. Back to camp & Mat went for a fish on the beach infront of our spot & got 2 good sized Australian Salmon, they would be dinner the next night, as we had home made spring rolls (recipe coming soon) that night, YUM!
The next day was domestic duties day & we did our washing, as we could get bore water from the shower. After that we went to the beach for a walk & a fish. Nothing caughtin the morning as there was to much weed in the water & the afternnon was Ben more weed & wind, oh well. The clouds started rolling in threatening to rain but half an hour later it was clear again. We did our usual pack up what we could & had the salmon & veggies for dinner, very tasty. It is now time to head down towards Port Lincoln, we are going to try & find a good spot in Lincoln NP for the Christmas break.